Company Profile|EARTHTECHNICA CO,LTD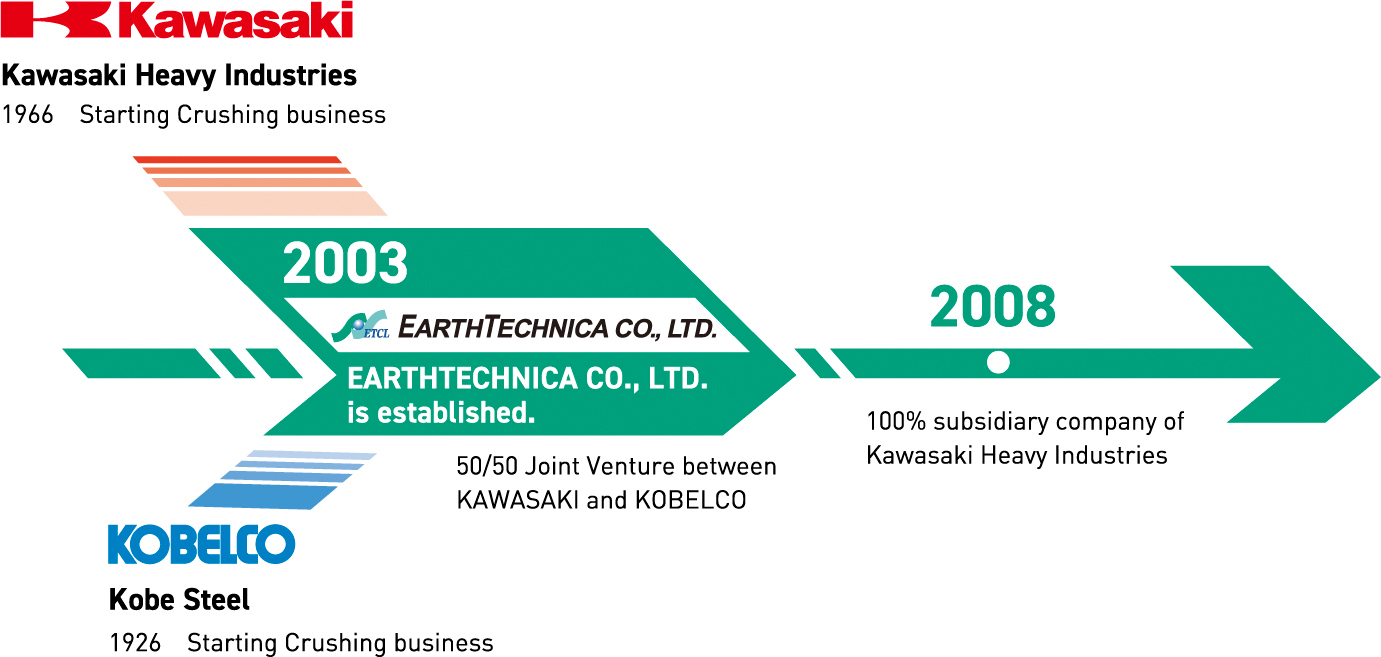 EARTHTECHNICA was born in April 2003 by integrating crushers and environmental equipment businesses of both Kawasaki Heavy Industries and Kobe Steel. Then the company was completely subsidized by Kawasaki Heavy Industries to become its affiliate company.
Taking full advantage of our promising technologies for "CRUSHING, GRINDING AND SEPARATION", we are globally developing four types of business consisting of crusher / grinning mill, steel casting, environment-related equipment and powder processing equipment to meet the customer needs.
To reward the social trust, we place our management priorities on positive approaches to pursuit of cutting-edge technologies and active commitment to global environmental conservation to aim further corporate evolution by fully utilizing our knowledge, challenging development of advanced technologies and making efforts to strengthen human resources.
As a leader of comprehensive manufactures of crushing and grinding equipment in Japan and as a pioneer enterprise of environment-related equipment, powder processing equipment and steel castings, we will continuously develop products with global quality while quickly meeting the needs of the next generation.
Company Name
EARTHTECHNICA CO., LTD.
Established
On April1, 2003 (Operation Started on July 1, 2003)
Head Office
Tokyo Tatemono Jimbocho Bldg., 2-4, Kanda-Jimbocho, Chiyoda-ku, Tokyo, JAPAN
TEL: +81-3-3230-7155 / FAX: +81-3-3230-7158
Company President
Masaki Hamaguchi
Capital
¥1.2 Bil
Number of Employees
319 (April 1, 2020)
Content of business

Design, Manufacturing and Sales for the following products

● Crushing & Grinding Equipment and Plant
● Recycling Equipment and Plant
● Powder Processing equipment and Plant
● Special cast steel and iron
Office
Tokyo, Yachiyo (Chiba), Osaka, Sendai, Nagoya, Fukuoka

ISO
ISO9001, ISO14001 (Yachiyo Works)