Initiatives for the SDGs
EARTHTECHNICA SDGs
In 2015, the Sustainable Development Goals (SDGs) were adopted by the United Nations as international goals to create a sustainable and better world by 2030. The SDGs consist of 17 goals and 169 targets, and not only governments and international organizations but also companies are expected to take the initiative to achieve the goals by addressing and overcoming the challenges of economy, social and natural environment.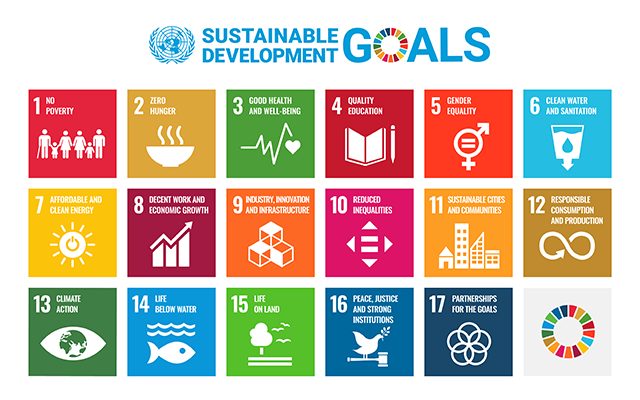 We, EARTHTECHNICA, have been tackling environmental protection through the development of recycling, resource recovery and high environmentally-friendly technologies and products derived from crushing, powder processing and sorting techniques. For instance, in our RPF(solid fuel made from waste plastic) manufacturing facility, which has been first domestically introduced, the produced RPF is utilized as alternative fuel for coal, and the CO2 emissions of RPF combustion are reduced to approximately 67% of those of coal combustion, resulting in annual CO2 reduction of about 100,000 tons*1. Additionally, in our material recycling facility for waste plastics, approximately 390,000 tons of plastics are sorted and processed annually. If they are incinerated instead of being recycled, it would result in approximately 540,000 tons of CO2 emissions*1. Our facility contributes to the reduction of the large amount of emissions. When combined with the aforementioned RPF data, a total annual reduction of CO2 emissions would be approximately 640,000 tons*2. This is equivalent to the amount of annual CO2 absorption by approximately 73.58 million cedars, which would cover an area approximately one-third the size of Tokyo*3.
(*1) CO2 emission coefficient: Coal 2.33, RPF 1.57, other waste plastics 2.77 (tCO2/t).
https://ghg-santeikohyo.env.go.jp/files/calc/itiran_2020_rev.pdf
(*2) The total amount of CO2 emissions reduced by the delivered equipment and currently in operation.
(*3) Conversion rate: The amount of CO2 absorbed by a cedar is 8.8kg annually, The area is 1,000 cedars hectare.
https://www.rinya.maff.go.jp/j/sin_riyou/ondanka/20141113_topics2_2.html
As illustrated by the above examples, our technology and products are highly compatible with the SDGs. We will continue to improve our existing products, while also developing new technologies and offering products to respond to societal demands such as achieving a decarbonized society and further improving recycle rates.
We will focus on improving working conditions and contributing to our local communities. As part of our endeavor to the SDGs, we will continue to be a company that contributes to creating a sustainable and better world.
President and Representative Director Masahiko, Nishi
Themes That EARTHTECHNICA Focuses On